What is Screen Printing?
Screen printing is the process of pushing ink through a mesh stencil to create repeatable prints, it is best suited for larger runs due to setup costs of making the screens.
Screen printing is the most durable print type for printing custom t shirts and what we would recommend for larger runs of limited colour garments.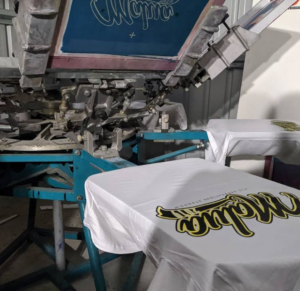 Here at the Tee Print Centre we provide you with screen printed apparel for Melbourne and beyond. By using timeless and traditional techniques combined with the latest technology and print expertise, we bring to you the highest quality of custom apparel for every and any occasion.
Screen printing has certainly proved it's timeless reliability over the last few decades and is known
for:
Its great bold colours
Its ability to produce a crisp design
Being ideal for designs with up to 6 different colours
Its amazing colour accuracy
Its cost-effectiveness in larger order quantities.
To simplify the complicated, traditional screen printing is essentially the process of applying ink though a stencil. The screens used are a type of fine-mesh that's stretched over a rectangular frame and coated in light-sensitive emulsion. The design is then split into different colours, with each colour printed onto transparent film and then exposed onto a separate screen. Exposing the screen makes a stencil of the design which only allows ink to pass through the exposed design.
Once exposed the screen is placed in the screen print machine ink is applied to the screen and the printing process begins, the screen is lowered onto the print surface, and ink is pressed through the mesh, forming the print. This process is then repeated for each additional colour. Once the print is applied,  the item is placed through a heat tunnel to cure and dry the ink onto the garment.
Advantages of Screen Printing
One of the best features of screen printing is it's versatility. It can work with any type and or texture of material and is known to work amazingly well to almost all types of garments including t-shirts, bags and even hats. At tee print centre we guarantee that your product is of the highest quality, this is due to the quality inks used in our screen printing methods. Known for providing the highest quality and most durable prints, your images will stay sharp and crisp. The prints are in hi-definition with very high detail quality. To enhance your creative experience with us, you are also able to choose from a range of special effects such as metallic, glitter, foil, glow in the dark, gloss or even fluoro prints.
Advice & Tips
Screen printing is a great option for block colours and some types of illustrative styles that require colour accuracy and have bold shapes. To get the most from screen printing at the Tee Print Centre, we recommend that all our customers do the following:
Supply a vector image with ideally 6 colours or less (vector images are completely scalable and transfer to screen printing best)
Convert all vector images to outlines
Specify all colours as PMS spot colours for accuracy Print Quality, Feel &
Durability
Setting the benchmark high, our screen prints provide bold, retail-quality colours where the detail is super crisp. Here at the Tee Print Centre, our prints are known to age well as long as they are cared for and washed appropriately. We recommend that all our clients handle their items according to the below
Recommendations
Cold Wash on delicate settings
Wash garments inside out
Air dry out of direct sunlight
Do not iron over print (only iron on the reverse side if you must)

Do not tumble dry
Need more information?, contact us today!